We all know that it's hard to quiet our mind and relax our body. For many, it's much easier to turn on the television or scroll on social media to catch up on the latest updates. It's easy to watch documentaries about travel and nature in the comfort of our own homes instead of actually going out to experience nature for ourselves- in real life.
On Sunday, we decided to say hello to the wonderful sunshine and nature. We took a last minute trip to The Real Flower Petal Confetti Company.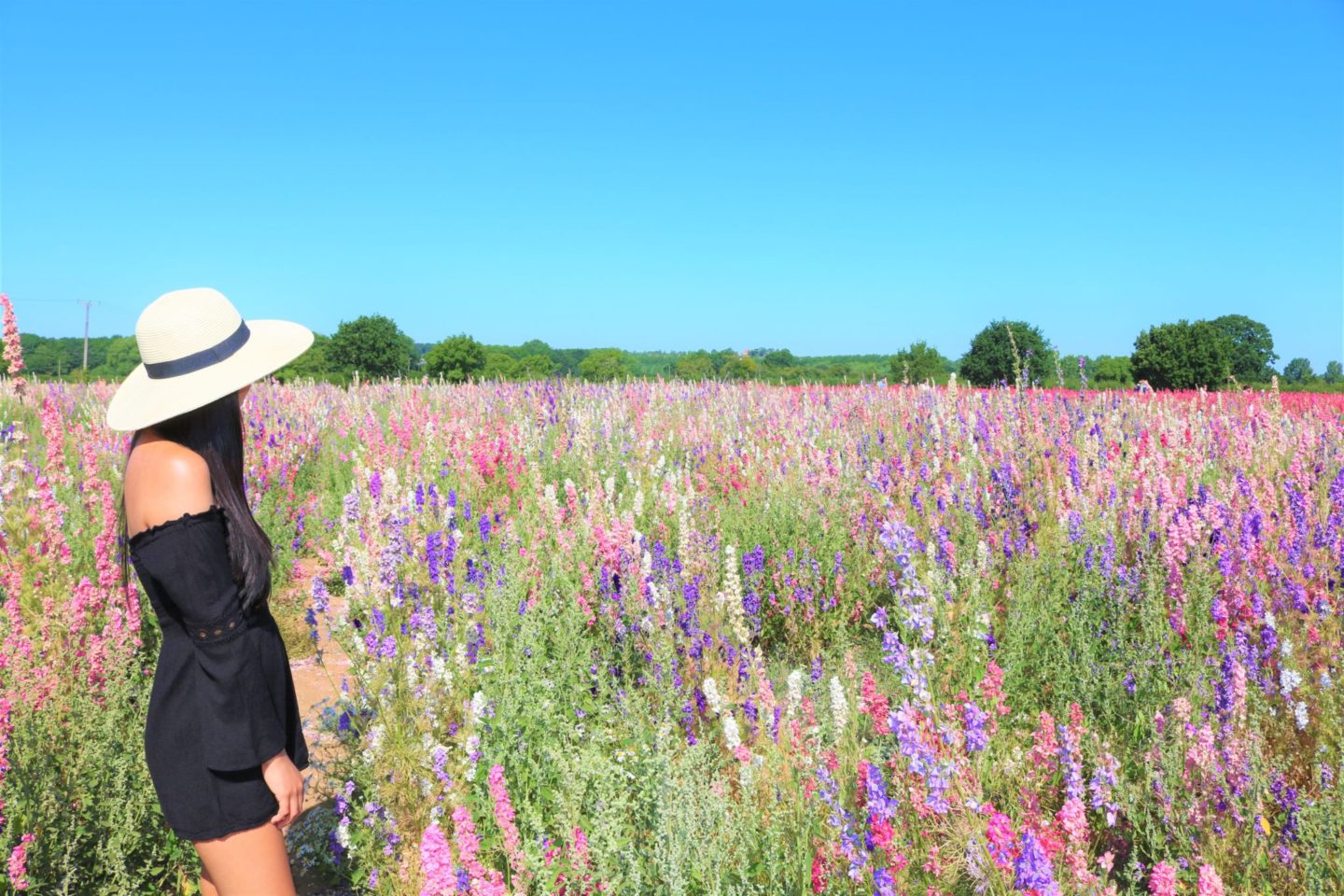 The farm started growing high quality wedding confetti flowers 21 years ago. Not only are the flowers naturally beautiful, they are also biodegradable. The most popular confetti flowers are delphiniums and cornflowers but more recently, they have added wildflowers, rose petals, lavender and hydrangeas. The field where the flowers bloom is in Wyke Manor Estate every summer. The confetti field is only open to the public for one week each year.
We were blessed with some sunshine and clear blue skies when we went to visit the confetti field. This summer 2018 has been hotter than usual and we haven't had this kind of summer heat in years. As soon as we got there, I was blown away by the beautiful colours of the flowers. Being out in nature always brings me peace and serenity. I felt as if I was in flower heaven.
While I was out exploring the flowers in the confetti field, I was surprised by how refreshed, calm and peaceful I felt within. Although it was so hot, we enjoyed being out in the sun and being surrounded by the most beautiful flowers. It was like being in flower heaven and really, when I was a little girl, I always imagined heaven to be something just like this confetti field, a place filled with beautiful flowers in the most vibrant colors.
I felt so blessed to be there. I realised that I really needed a break from all the chaos and the stresses of everyday life. It's important to surround ourselves with things which are beautiful and to take our mind off of things which weigh us down. Many of us are troubled by things which have happened in the past, and things which we are worried about in the future. Many of us forget to honour the present moment and often, we are too blind to see the beauty that surrounds us.
I used to think that I would get more energy if I did nothing but I was wrong. Sitting around thinking we're conserving energy is actually doing nothing for us but drain our energy even more. The less you move, the more lethargic you will feel. In the summer, it's easy to crave for midday naps but this isn't good when we're trying to boost our energy levels. Exercise helps to boost endorphins in the brain which are hormones which help us feel good and energised. I was walking around the fields for two hours but didn't even get tired. When we're outdoors, we stop noticing how many steps we have actually taken and how much time we have actually spent moving.
It was also great to smell the fresh breeze and the wonderful smells of the flowers that surrounded us. I felt like I was somewhere so pure and natural. I took a few moments to take deep breaths and my body felt relaxed and invigorated.
I also switched off my mobile phone the whole time we were there. Although it's also a popular photo shoot location and we took a lot of photos ourselves, we made sure that we were not too engrossed with taking photographs. I didn't post any pictures on social media or do a live video while we were there. Switching off from social media allowed us to focus all of our attention and centre our mind.
Being around nature isn't like any other distraction we are used to having when we are overwhelmed. Being out in nature offers so much more than a distraction. Of course, we need to plan ahead but we deserve some time away from over thinking and over working. Being out in nature isn't the same distraction as being on social media, watching a movie or playing a video game. It offers so much more.
Nature allows us to be in touch with our humanity within. Nature keeps us grounded and it reminds us that we are one with the world.
When I was around the flowers, my mind was thinking of nothing but the beautiful surroundings. It felt great to switch my mind off from all the other tasks and plans I had for the weeks ahead. I enjoyed being in the present moment. There was so much to see so I found myself focusing on the tiny details of the flowers in bloom.
Nature helps us connect with out surroundings and remain grounded. Whenever I'm out exploring outdoors, I feel like I connect to my roots and I feel as though all the superficial and stressful things we worry about seem so insignificant.
Nature is a gift…a truly wonderful gift that we must not waste, no matter the weather or season so go out and explore as much as you can. When you remind yourself to stay grounded, be one with nature and the present moment, it's impossible to be unhappy.
I love spending days like the one I spent at the confetti field. I live for the incredible feelings the experience made me feel. I was filled with so much love while I was there, walking hand in hand with my fiance.
Looking out the horizon, I realized how life is truly a gift and a blessing… My mother always tells me,
'Anak, masarap mabuhay…'
and indeed my dear mother is right.
Life is good…
What I'm Wearing:
Black Bardot Playsuit from Miss Selfridge- £30
Black Wedge Sandals from Tesco- £16
Summer Hat From Warehouse- £35
Diamond Earrings from Goldsmiths
Beauty:
Face: Lancome Teint Miracle Foundation £32
Blush: Sleek Blush in Pink Mint -£10
Eyebrows: Loreal Brow Kit -£9.99
Lips: Lanolips in Rhubarb- £8.16
Hawaiian Tropic Duo Defence SPF 30 Lotion- £14
You can find The Real Flower Petal Confetti Company's website here for more information:
https://www.confettidirect.co.uk