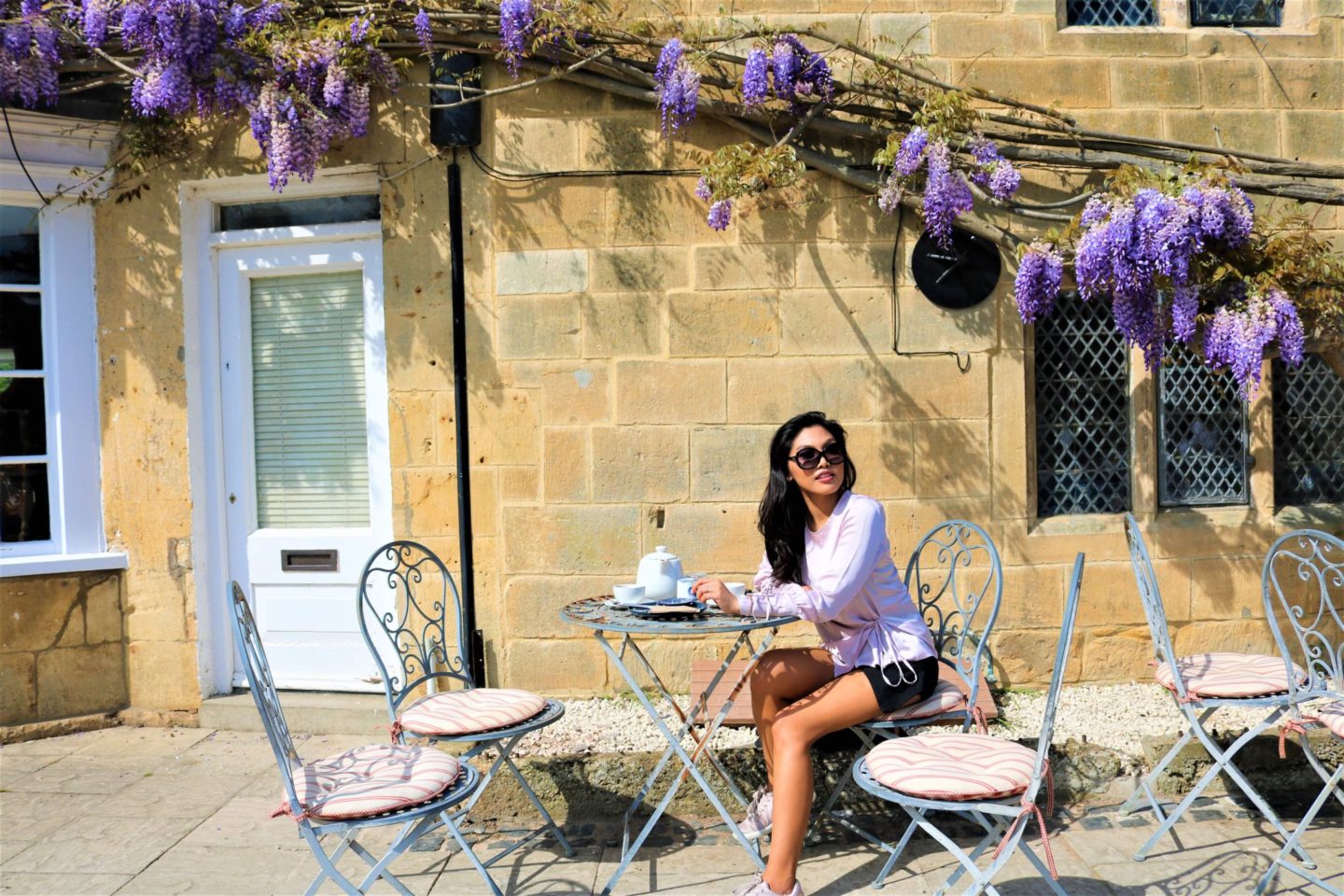 I'm sure you've all heard of John Lennon's quote,
'Life is what happens when you're busy making plans.'
I stopped making too many life plans years ago when I learned that life can be so unpredictable. We all know that change is inevitable and what you want today may not be what you want tomorrow. I live each day as it comes because I love living in the moment. It's hard to do but there's something great about honouring the present. It helps ease my worries about the future and it forces me to be grateful every single day. I used to think about 'What ifs', worrying about things that could go wrong in my life. Worrying is unproductive and only drains my energy. When I worry about the 'What ifs' of my life and ask myself 'What if things go wrong?' I try my best to turn things around and ask myself, 'But what if things go right?'
So now, I try my best to live a more spontaneous life; not because I'm too scared to make plans in case I get disappointed but because I love gifting myself with new experiences and discoveries. It's just more fun when we don't know what life's going to throw at us. Not knowing what's around the corner is something I see as exciting than frightening. I avoid staying idle so I'm always looking for the next thing I can do but when I don't know what to do with my day, I make spur of the moment trips somewhere. When I don't know what to do with my life, I let go and carry on living my life doing the best I can while trusting that life will take me somewhere wonderful.
'I love gifting myself with new experiences and discoveries.'
Last Sunday was a day full of unexpected discoveries. Usually, I find Sundays boring and uneventful. Most shops are closed and if they trade on Sundays, they open late and close early. My fiance and I woke up pretty early and the sun was beaming through the clouds. I could tell it was going to be a nice day but sometimes, when it's hot, it can be so tempting to stay in bed and be lazy. I thought about staying in to watch a few movies instead but I decided that although we had no specific destination or plan in mind, we needed to go out and enjoy the lovely weather.
Getting ready was fun that morning…
Things are much easier to find now that I've decluttered my wardrobe. I found a Topshop shopping bag behind a pile of jeans. Little did I know that there was a brand new lilac satin shirt I bought from Topshop inside it. I had forgotten about this shirt and so I was excited to finally wear it. Then, I remembered that I had satin lilac trainers that perfectly match the shirt I unexpectedly found! I thought that I didn't have any accessories to wear with my lilac outfit but when I looked in my jewellery box, I found a lilac diamante and gold bracelet that matched my shirt and shoes! This bracelet was gifted to me by my sister-in-law 15 years ago. Lilac is a colour I don't normally wear but I love it so much now and I was so excited to go out wearing my lilac pieces. After our obsession with millennial pink, fashionistas and designers have all declared that lilac is a favoured colour for this season. I think that lilac is a perfect alternative for those people who want to rock a pastel colour this summer but find pinks a little too girly.
(I have featured some of my favourite Zara pieces below…)
We were ready to go out by about 10 AM but the shops were still closed so we didn't know where to go. We aimlessly drove for around 10 minutes until we saw a sign saying 'Car Boot Sale'. I told my fiance I wanted to go so we followed the signs. He told me that I was way too overdressed for the trip but I didn't care because I knew that there would be a 99 flake ice cream shop there and some food trucks so I insisted on going. I had so much fun when we got there. Looking around, I was shocked by how much stuff people have to sell. We saw so many old toys, books, CD's, antiques, porcelain dolls, fine china, war time accessories…all kinds of stuff. Seeing all these reminded me of the two years I spent decluttering our apartment every Sunday. It was nice to see people recycle and sell their unwanted possessions rather than throw them away.
'Could this day get any more purple?'
After an hour or so at the car boot sale, the weather started to get better so we went for a drive and ended up in a lovely village within the Cotswolds called Broadway. Broadway isn't too far from where we live and it had been a while since we went to visit. It's a village where you will find quaint shops and independent retailers that sell very British things. We saw a lovely coffee shop covered in beautiful lilac Wisteria flowers and it's called The Bakehouse. I was amazed by how beautiful the Wisteria flowers looked outside this cottage and with the sun shining so bright, they looked even more beautiful. So…we found ourselves sitting outside The Bakehouse, surrounded by beautiful lilac flowers wearing my new favourite lilac shirt, shoes and bracelet wondering, 'Could this day get any more purple?'
Freshly baked scones with clotted cream and jam from The Bakehouse in Broadway
If you wish to visit The Bakehouse Broadway, you can find all their details on: www.thebakehousebroadway.co.uk
I love scones with clotted cream and jam. Everyone who knows me well know that I often have cravings for those! Even though we just had a big lunch meal from a different restaurant, I decided to order some scones to try. I'm always on the hunt for the most delicious scones and to be honest, I had been left disappointed when cafes I've been to in the past served them dry. We were so glad we stopped by at the The Bakehouse because the scones they served were freshly baked and home made. I ordered two scones for myself but my fiance ended up eating one for himself. He doesn't usually like scones but he changed his mind that day. It's always amazing when we find great cafes that serve good food. As much as I love Starbucks Coffee, I always prefer going to independent and artisan coffee shops. Living in the Cotswolds, I prefer supporting local businesses. I find that the goods they sell are of the highest quality and are always made and prepared with love.
'So feel the laziness but get up and do things anyway…'
When we were sitting outside the cafe, my fiance and I got to enjoy chatting with each other about different topics; something we always love and enjoy doing. I was so happy that we chose to go out instead of stay in all day watching TV. I would have missed out on some great English tea, scones, sunshine and beautiful Wisteria flowers. This is what I mean about the good things that come from living spontaneously. We find little surprises anywhere you go so feel the laziness but get up and do things anyway because you'll never know what you may find.
'I believe that the best memories are made when we least expect things to happen.'
Lovely Wisteria flowers in bloom
There are so many positives in living a more spontaneous life. I believe that the best memories are made when we least expect things to happen. In the past, I've been in situations where I've felt so much disappointment because 'things just didn't go to plan…' I finally understand that many of the things that can happen in our life are mostly out of our control. We can plan all we want and draw picture perfect maps of where we want to go in life but somehow, something will always get in the way because life itself gets in the way. Although we can't control the things that happen to us, we can always control how we respond to every situation we find ourselves in. I also find that when we make elaborate plans, we create high expectations which then create so much disappointment when these are not met. I'm not saying we should quit making plans altogether, set lower standards and settle for less. What I'm saying is that in life, it's better to go with the flow. This way, we welcome and appreciate everything that comes our way.
ROCKING THE LATEST LILAC SUMMER TREND
Here are some of my favourite lilac pieces from Zara:
LILAC AND SATIN- EVENING
I love satin fabrics because they are soft, comfortable to wear and so feminine. This satin cross over top from Zara is so beautiful especially because of the frilly sleeves (also a trend this season). The wide leg trousers look great when worn with with nude heels and with the way the satin fabric falls, your legs will look longer. If you buy these two matching pieces, you will also be able to mix and match them with other items you have in your wardrobe. You can wear the cross over top with white or black trousers/skirts or you can wear the wide leg trousers with a white blouse or another neutral coloured top. You can wear these pieces to summer parties (day or evening) and you can also dress this up or down depending on the accessories and shoes you wear. You can choose to wear either a statement necklace or a pair of statement earrings.
LILAC AND DENIM- DAY
For a more casual day look, choose to go for lilac denims instead. Again, like the satin pieces above, the denim jacket and jeans will enable you to create super cool looks if you mix and match them with some other pieces in your wardrobe. You can wear plain tops underneath the lilac denim jacket or wear dark or light bottoms with them. You can also wear the lilac jeans with white tops like cropped or over sized shirts. These pieces will look great when worn together too or you can mix and match them with last season's millennial pink or other pastel colours.
LILAC JUMPERS FOR LAYERS
We all know that summer doesn't always mean 'warm weather' so for those chilly summer nights (or days), this lilac jumper/hoodie is a great layering piece you can wear on top of any light summer top or dress. This is an oversized piece and will look great with skinny jeans or slim/cigarette trousers. You can also wear this underneath your lilac denim jacket or mix this with light blue or millennial pink jeans for a pastel on pastel look. This will also look great with dark or light bottoms like white jeans. If you have summer playsuits and dresses, you can also wear this on top to keep warm.
LILAC FOR WORK
Who says work wear has to be boring this summer? Lilac is a great pastel colour to wear for work. If you're worried about pink clothes looking too girly, then I say lilac is the colour you can go for. A nice chiffon top with some cropped tailored trousers is a good combination to wear. You can also wear the lilac chiffon shirt with black or lilac tailored trousers. The lilac tailored trousers featured above will also look great with a nice crisp white collared shirt. Don't forget to wear those nude or black heels or pumps to finish off the look.
I hope you enjoyed reading this post! Let me know if you buy any lilac pieces for your wardrobe this summer!
Shop
[google_analytics_optout]Click here to opt-out of Google Analytics[/google_analytics_optout]