Totes are a girl's bestfriend.
Of all the handbags I have in my closet, my totes are the most used because they're the most practical bags ever. I've had numerous totes and bucket bags from different brands but I feel like nothing compares to the classic Longchamp Le Pliage nylon bag.
Longchamp is a French luxury leather goods company which took inspiration from Origami- the Japanese art of paper folding to create their best selling bag collection- 'LE PLIAGE'. The word 'Le Pliage' means 'to fold' in French. As the name suggests, the bags can be folded to a smaller size. Longchamp's Le Pliage bag collections are made of Cuir leather or Nylon. My favourite Le Pliage range are the ones made of nylon throughout with a leather flap which features their classic logo showing a jockey on a horse. This leather flap attaches on to the bottom button of the bag when it is folded. The tote also has nice leather handles in brown or a matching colour in some styles which help transform this nylon tote into a sophisticated and classic tote bag.
Longchamp offers a wide variety of colours and sizes to choose from and they have even partnered with other designers to produce limited edition printed design versions of the tote so there's something for everyone.
I have owned a few Le Pliage bags in different colours in the past but I have always gone for neutral colours like navy, black and beige. Although my favourite neutral colours are my go to during the winter months, I decided to purchase a small Le Pliage in red for this summer because I felt like it's time for a change.
Reasons why I love Longchamp's Le Pliage Nylon Bags
They come in different sizes to suit your needs
From small handbag styles, medium totes, backpack styles to large travel duffels; there's a size suitable for anything you need. The small handbag and medium tote styles are great for everyday use and large totes are great for school, college or work. I use my large tote when I attend classes or teach because it fits my laptop, books and A4 folders. Backpack styles are great for when you don't want to use your hands too much (when you're sightseeing and travelling). I've personally never owned a Longchamp Le Pliage backpack myself but I have seen some people wear them when travelling and it's perfect if you want to keep your hands free. The large travel duffels are great as overhead cabin luggage bags you can take with you on the plane. It can fit jackets, coats or anything else you need when travelling. You should be able to lift the travel duffel easily when you need to place it on the overhead cabin because it won't be that heavy no matter how full the bag is (although it still depends on what you put in the bag) and in my next point, I'll tell you why…
They are lightweight and comfortable
Longchamp Le Pliage handbags are comfortable and easy to wear. Because they are mainly made of nylon, you won't be burdened with the extra weight like other handbags which are made of leather or thicker materials. Le Pliage bags don't have numerous pockets and extras; it only has one small pocket inside. You can also buy lightweight organisers which you can add inside the bag but most people find this unnecessary. Le Pliage bags are simple and easy to use. If you're like me who is always on the go most of the time, it's hard not to just chuck your things in bags quickly when you're in a rush. Le Pliage bags are perfect for those busy moments when you don't have time to organise anything. You can just put everything you think you need in the bag then grab it and go.
I recall buying a travel duffel bag which was lovely from the inside and outside. It had special trims with the brand's logo, special zips with heavy handles and extra pockets for packing. When I was at the shop, I fell in love with it and thought that it's the perfect travel bag but when I filled it with my things, it was so heavy that I couldn't use it at all. I realised that it was a heavy bag when it's empty so it only made sense that it would get extra heavy when I put my stuff inside it. To be honest, I never used the bag and because I bought it overseas just a couple of days before my flight back to the UK, I couldn't return it to the store because we didn't have enough time. That was one of the purchases I regret and the bag cost a lot unlike the Le Pliage collection which is so affordable.
You won't have this weight problem with the Le Pliage bags because no matter how much you fill it, the lightweight nylon is light but strong enough to hold a lot of items without getting too heavy. The nice thin leather handles are well sewn so you won't need to worry about the bag breaking even if you fill it to the maximum capacity. Be sensible when filling your bag and know when enough is enough. Longchamp Le Pliage bags are not indestructible and care still must be taken when you're using them. I find that Longchamp bags are really well made so you shouldn't have any problems as long as you look after them.
The zip provides security and shape no matter what's inside
Many of the totes I've owned in the past all lacked a very important feature for any bag- Zippers.
Bucket bags and totes always seem to only have one pop attachment in the middle, a magnetic button, or a velcro seal. Some totes also feature a zip but usually, they will only be in the middle and still leave two open gaps on each side opening. Yes, these features may be great for women like me who want that 'shopping bag' style and there really is nothing wrong with that. I can see why bucket and tote bags have those features but…
I have realised now that zips are needed, not just for style purposes but also for security. You don't want your things to fall out easily from your bags especially when they are overfilled. It's also great to know that no one can easily put their hands inside your bag to take something especially when you're in overcrowded cities or spaces or when you're travelling or commuting to and from work or school.
What I love about Le Pliage bags are how well sewn every feature is. As I mentioned earlier, the handles are great leather handles sewn well on top of the bag but another feature I love are the zippers. They are great quality zips and they are easily zipped unlike other handbag zippers which can sometimes be stiff and hard to close and open. Le Pliage zips also help in showing off the minimalist shape and structure of the bag when they are closed. One time, I overfilled my medium Le Pliage and I was still able to close the zip of the bag. Even though my Le Pliage was full, it didn't look bad at all. In fact, closing the zip allowed the bag to really show its shape and it looked great.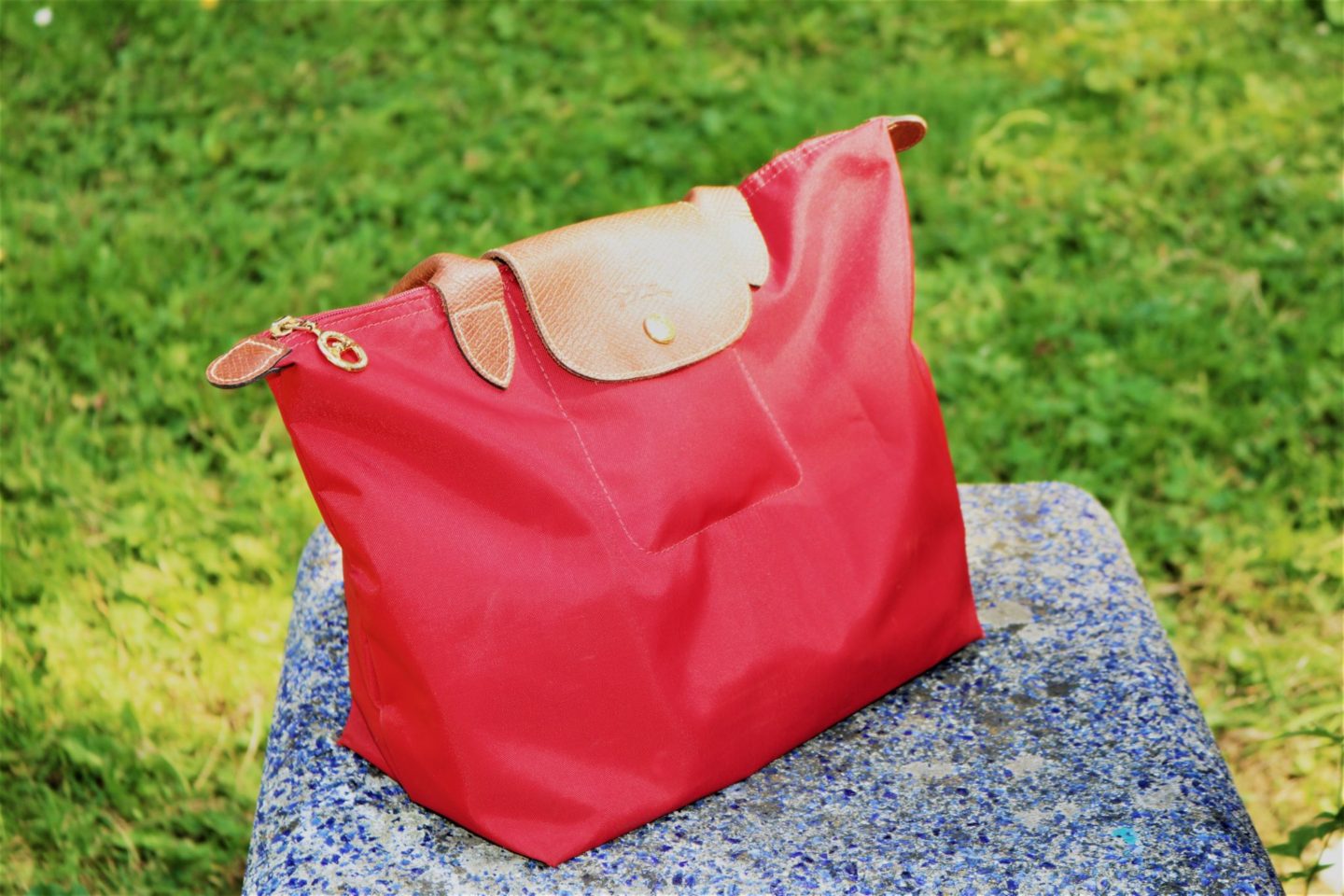 They come in different colours and designs
Longchamp Le Pliage bags are easy to spot anywhere because of its classic design and I love how they come in different colours. It's great for colour coding everything. I know which bag is for the gym, for travelling, paperwork and daily use. The classic Le Pliage bags have this simple and minimalist look to it as mentioned above so I feel like it pretty much goes with anything you choose to wear. It saves me time because I don't have to overthink when choosing which bag to use. I can just grab my Le Pliage and know that it wouldn't look too out place; unless you're going to a fancy dinner or event obviously! For the winter months, I choose to wear darker colours but for this summer, I decided to go for the classic red Le Pliage bag instead.
Longchamp has been known to collaborate with different designers to produce different designs too. When I was in Paris, I spotted ones with the Eiffel Tower print on them at the airport. It seems that they can be useful souvenirs too! It's really amazing to have different variations of the classic Le Pliage. Classic doesn't have to mean boring and predictable… Longchamp has really found the balance in maintaining the classic designs while mixing them up with other prints. What a way to jazz up their classic best-seller.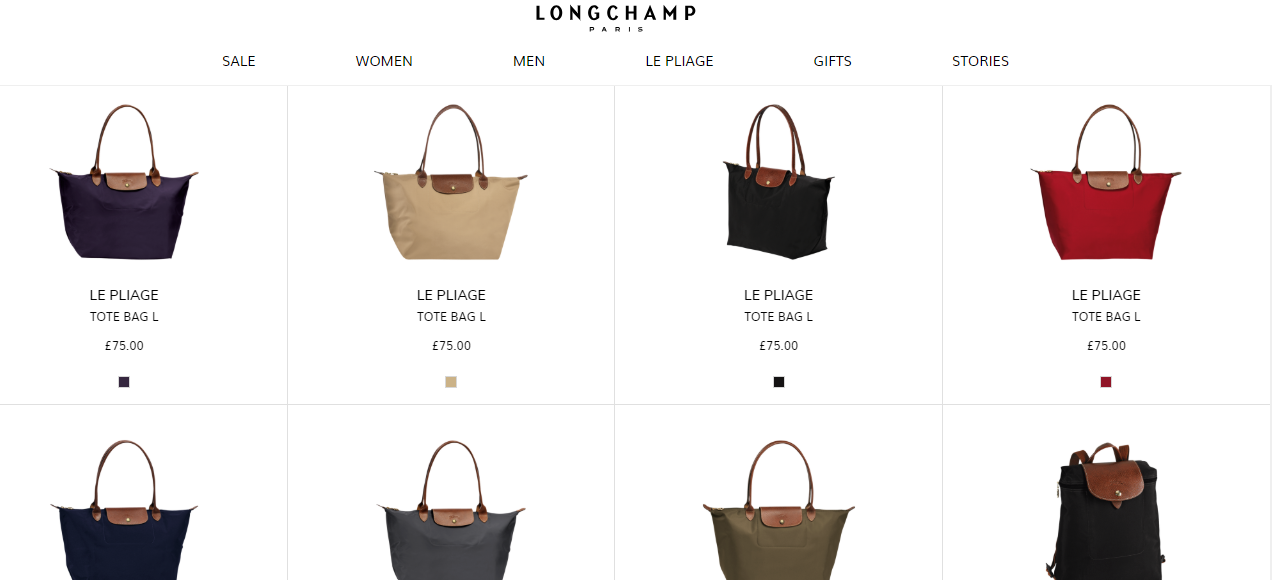 Classic Longchamp Le Pliage Nylon Styles
Longchamp Le Pliage 2018 Collection
You can have your very own personalised Longchamp Le Pliage
Anything personalised is great right? Millions of people in the world own at least one Le Pliage in the classic colours and styles but…
Imagine having your very own unique Le Pliage by having it made and personalised just for you? You can choose your very own bag size, handle size, main colour, stripe colour, hardware and you can even have your very own monograms. It's nice to have something personally labelled especially if you are around other people who are using the same bags as you. Imagine travelling and being at the airport where you are likely to find someone with the same Le Pliage. There's nothing worse than getting your bags mixed up! If you have a Le Pliage with your name labelled on it or a custom mix of two different stripe colours, you'll find it easier to spot your bag and know it's definitely yours.
They are easy to maintain and clean
Longchamp's classic foldable bag is not only great for packing away for those 'just in case' moments when you need to carry something but they are easy to store away somewhere. You don't need to necessarily pack them in dust bags unlike other bags. You can easily fold the Le Pliage bags and hang them somewhere in your closet or pack them in other bags to prevent taking up more storage space in your closet. They are also very easy to wipe clean. Just get a damp cloth with some mild soap and water or even a gentle makeup wipe. I find that when I use these to wipe the outside of the bag, little marks come off easily and the bag looks clean again. The insides can get a little dirty too if you don't use a handbag organiser but, don't fret, you can also wipe the inside to keep it clean.
They're great to use anytime, anywhere…whatever the weather
Winter, Spring, Summer or Fall, I go for my Le Pliage bags most of the time. When it's rainy, I use my Le Pliage. When it's sunny, I use my Le Pliage. Why? Because the Nylon material is great for any kind of weather; rain or shine. As you all know, it rains a lot in the UK and so it's great to have a bag which won't get too damaged if it gets wet. When it's sunny and warm, I tend to carry extra bottles of water in my bag so I use Le Pliage totes for the summer a lot too. They're perfect weekend bags for those last minute sleepovers or honestly…for pretty much anything.
When I travel abroad, it's great to know that wherever I go, Le Pliage totes will be a suitable travel bag whatever the weather. Even though the nylon used by Longchamp are of great quality, there have been reports of Le Pliage nylon bags getting slashed by robbers in other countries. I advise that you take great care when wearing your bags especially around crowded spaces. As I mentioned above, buying a bag organiser to put inside the Le Pliage bags may not be necessary but if you know you will be around crowded areas and are worried about your safety, please watch out and use a bag organiser and research other anti-theft strategies. Always be aware of your surroundings.
Women all over the world and celebrities are big fans
Longchamp has definitely created a cult classic item that many women all over the world love including celebrities. From the Duchess of Cambridge Catherine Middleton to Beyonce, women all over the world have adored and continue to love Le Pliage totes. They are simple and understated luxury bags which aren't too expensive. Some people may disagree and say that they aren't luxury bags but for me the word 'Luxury' means something more than just the expensive price tags. Luxury is all about using and enjoying amazing products and experiences which make you feel great and happy.
Shop some of my favourite Longchamp Le Pliage Nylon Bags…
Shopr: No products to show.