I believe that makeup should be used to enhance our features and not mask them. Often, we find many women cover up their beautiful faces with so much makeup that they end up looking like wax figures. I also find that the harder we try to conceal our flaws, the more we highlight them. Have you ever tried to conceal a pimple or a dark spot by layering a lot of concealer on top of it only to find that the very spot has become inflamed, bumpy and dry?
I have spent so much money on makeup products I ended up not using and I have tried many makeup looks have and found that they never worked for me? Like many, I have wasted not just my money but my time shopping and creating makeup looks which didn't suit me. While I celebrate the people who use makeup to conceal and correct their flaws, express their individuality and use makeup as an art form, I now believe that minimal and natural makeup is the best makeup look anyone can wear. Many women believe that they look more beautiful when wearing heavy makeup (some even sleep with their makeup on). I understand that to some people, wearing a face full of makeup helps improve their confidence which is important but I believe that what's more important is for us to accept our natural selves and celebrate the natural beauty we all have. Self-acceptance for me is the best source of inner confidence.
In this post, I will share with you the ten items I always reach for when I put on my natural makeup look. You will find 10 great makeup products I continue to re-purchase from one of my favourite stores- SPACE NK.
Face
Concealers
For a while, I listened to makeup gurus who put a lot of concealer under their eyes. Yes, I would say that it worked for me for a while but I realise now that adding more concealer on top of foundation can enhance wrinkle lines underneath the eyes.
Now, I have learned to dab some concealer only in areas that need extra coverage mainly under the eyes followed by setting those areas with a pressed powder. I will dust a little bit of that pressed powder all over my face too. This creates a really lovely natural look.
I recommend:
NARS Radiant Creamy Concealer in the shade Custard (£24- www.spacenk.com) This concealer is one of the best selling concealers out there. I recommend this concealer because of it's consistency, coverage and staying power. It is as described, 'radiant and creamy' and what's great about this is that you can use it on it's own if you have dry skin or you can set it with a powder if you have oily skin.
Foundation and Pressed Powders
When it comes to looking natural, I stick to using tinted moisturizers. If you want to avoid products settling on wrinkle lines and making your face look 'cakey', tinted moisturizers are the way to go. If you're someone with freckles and natural facial marks like beauty spots, it is also nice to let those come through for a more youthful look. Tinted moisturizers are also perfect for maintaining healthy and glowing if you choose a product with SPF protection.
I recommend:
Laura Mercier's Tinted Moisturizer Broad Spectrum in the shade Tawny (£34- www.spacenk.com) Because I have normal to dry skin, I love using tinted moisturizers most of the year especially in the winter months when my skin needs some extra hydration.
Laura Mercier Translucent Loose Setting Powder (£36- www.spacenk.com) This is perfect for setting your concealer and tinted moisturizer in place without looking 'cakey'.
Highlighters
If I feel like adding some glow to my face, I use a light highlighting powder to lightly dust on the top of my cheeks. I avoid putting highlighters on the bridge of my nose if I'm going for a natural look. When you lightly dust some highlighting powder on your face, your radiance will look like it comes from within which is perfect for achieving a healthy and natural glow.
I recommend:
Hourglass Ambient Strobe Lighting Powder in Brilliant Light (£34-www.spacenk.com) This is great when lightly dusted all over the face using a fan brush. The shimmer in this powder is not too much so you won't end up looking like you have too much sparkle on your face.
Blushers and Bronzers
When creating a natural makeup look, I forget all about harsh contouring and go for a natural blush look. I use blushers and bronzers lightly to create a light contoured look. I either use a blusher on it's own around the apples of my cheeks or I use just a bronzer around the sides of my forehead and around the sides of my face. Forget about harsh contouring and baking with sheer powders. I only use the blushers to lightly add colour to my face and the bronzer is used to add a little bit of warmth and colour to the face. To avoid a build up of product on your makeup brushes, lightly tap the excess product on the your brush before applying any powder on your face.
I recommend:
Nars Blush in the shade Orgasm (£24- www.spacenk.com) This is a classic best-selling blush which suits all skin tones. With the peachy golden tone and subtle sparkle, it will instantly brighten your face and give you a natural blushed look.
Nars Bronzing Powder in the shade Laguna (£30.00-www.spacenk.com) This bronzer is again another universal product which is suitable for all skin types. The shade is perfect to create a natural bronzed glow.
Eyes
Eyebrow Pencils and Powders
Instead of plucking the top of my eyebrows like I did many years ago, I now only pluck the few stray hairs on the very bottom (hairs that don't contribute to the eyebrow shape). My eyebrow shape is now natural and I no longer have to carefully plan which hairs I need to pluck. I just leave my eyebrows as they are and I lightly fill them in with brown pencils or powder.
I recommend:
Hourglass Arch Brow Sculpting Pencil in the shade Soft Brunette (£29- www.spacenk.com)
Eyeliners
For a more natural look, I don't use any black eyeliners. I usually also avoid using eyeliners in brown and if I do, I lightly smudge them out for a more natural look. When creating a natural eyeliner look, I prefer using light brown to dark brown eye shadow powders. I avoid harsh eyeliner lines and again, I avoid using black altogether, go for softer browns and I also prefer matte powders over shimmery ones.
I recommend:
RMS Swift Shadow Eyeshadow in the shade Tempting Touch (£19- www.spacenk.com) This is a medium brown and golden eye shadow which is perfect when lightly applied on the eyelids and underneath the eyes for a soft eyeliner look.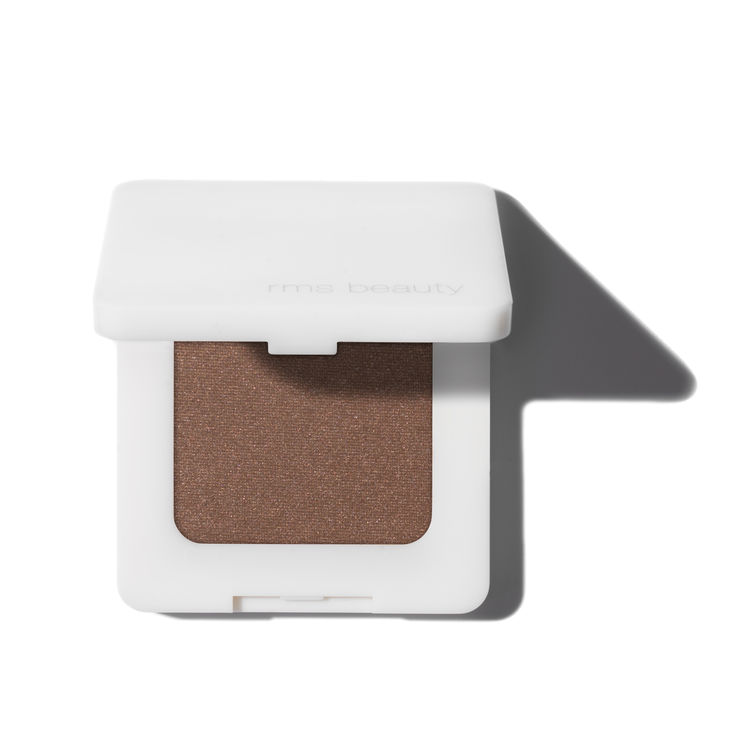 Eyeshadows
I use my Nars Bronzing Powder and RMS Swift Shadow in Tempting Touch (both mentioned above) as eye shadows when I'm going for a natural and minimal makeup look. I use either both colours mixed together but most of the time, I just use the Nars Laguna bronzing powder.
Eyelashes
I love using fake eyelashes to lengthen my very short eyelashes but I mostly try and save my false eyelashes for my more glamorous evening looks nowadays. I use one or two coats of mascara for a more natural look. I avoid coating my eyelashes with more than three coats of mascara to avoid clumping.
I recommend:
Laura Mercier Long Lash Mascara (£21- www.spacenk.com) This mascara is perfect for lengthening your eyelashes and adding volume without making them look clumpy.
Lips
In the past, I used to cover my lips with foundation to cancel out the natural deep red colour of my lips before I applied my matte lipsticks. I've learned to embrace my natural lip colour now and choose instead to enhance them by using tinted lip balms and clear or light pink lip glosses.
I love that they also help moisturise your lips. I suffer from dry lips most of the time because of the cold weather. Since using lip balms and lip glosses, my lips have become more soft and smooth. I believe that lips look the best when they look glossy, not only because they look healthy and nourished, but also because they make you look youthful and radiant.
I recommend:
Caudalie French Kiss in the shade Seduction (£10- www.spacenk.com) This is a favorite of mine. The smell isn't too strong and it has the most natural light pink colour which will suit all skin tones.
When I go for a natural makeup look, it only takes me around 10 minutes to put on my makeup. 10 minutes and 10 products…
So there you have it my friends… I hope that you get to try the items listed above and I hope you love them as much as I do!
Love,
The Tala