When I was little, I had a few cute native handbags and backpacks but I didn't appreciate how amazing those pieces were back then. All I wanted were those stuffed toy types of bags or the stroller ones with fun designs. I had a hand me down 'Winnie The Pooh' backpack which I wore to death because I didn't want to wear the native backpack my mother gave me to school. For a long time, as far as bags were concerned, the last type of bag I would have considered wearing were native bags. They seemed too traditional and I just didn't think they could hold much.
When I went to Manila for a short vacation back in 2012, my mother and I went to visit Quiapo church. Under a bridge a few yards away from the church, there were lots of stores selling traditional Filipino native products. In the past, I would have just ignored the stalls but this time, I took notice and I asked my mother to come with me.
I was fascinated with the amount of beautiful products they had in store. Not only were they beautifully designed, they were also great in quality and style. At first glance, I could tell that a lot of heart and soul went in to every single piece. There were chandeliers made of sea shells and wood, handbags made of wicker baskets and furniture carved from solid wood.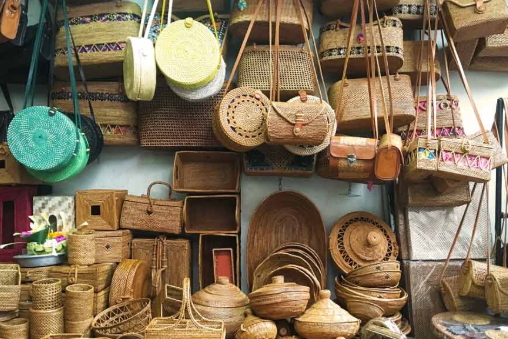 Of course I went straight for the handbags and I was amazed at how sturdy they were. I recall telling my mother how I used to think native bags were fragile and couldn't take much weight but the handbag I chose is so well made that even now, it's still in great condition.
I was actually in Topshop the other day and I noticed that they had lots of woven bags in stock. When I looked at the prices, it made me smile because some of them cost roughly around £20-50 when actually, my great quality native bag from the Philippines (which is honestly so sturdy and super well made) only cost me £7.00 (full price). I also feel good knowing that I'm supporting local Philippine businesses and products. There's a Filipino saying which goes something like 'Tangkilikin ang sariling atin.' which means we should 'support our own…' and we really should because our products are great!
The native crafts are made of sustainable and recycled native raw materials such as 'abaca', natural straws and fibers. They're all handmade using woven fibres and usually, handles are made of wood or the same woven materials. There are different designs, from buckets and baskets to shoulder bags and handbags… There's a style for every outfit. Native bags are certainly my go to pieces for spring and summer.
For me, these native crafts represent a huge part of our Philippine culture. It reminds me of the artistic ways people made products before massed produced synthetic products made in factories came along. I love that these bags are eco-friendly as well. The only plastic part of this particular handbag are the zips and the little piece of cotton covering the top where the zips are attached. Other than that, this bag is primarily made of biodegradable materials. Some basket bags are actually made without using plastic at all and they are truly amazing pieces to use if you want to lead a more eco-friendly lifestyle.
I love my native Philippine handbag and I will continue to treasure this bag for many years to come.
I hope that when you visit the Philippines you get to check out and buy some native Philippine products too!